So it looks like your system is setup to edit the file on a double-click. Doesn't it ask you whether you want to edit or run the script? My FC4 system gave me a choice.
We'll have to point users to this page. Please follow these instructions.
---
From: owner-dev@xxxxxxxxxxxxxxxx [mailto:owner-dev@xxxxxxxxxxxxxxxx] On Behalf Of Phil Martin
Sent: 15 May 2006 09:31
To: dev@xxxxxxxxxxxxxx
Subject: Re: [XaraXtreme-dev] autopackage
Neil Howe wrote:
Please can people try this xaralx autopackage and let me know of any
problems. So far I've tested it on FC4, Ubuntu and SUSE.
Doesn't work for me (FC4). I downloaded the package file and saved it to my desktop. The icon on my desktop shows that my system thinks it's a shell script (I guess it isn't?). Double-clicking it tries to open it in gedit and I guess because it's not a shell script, gedit gives this error: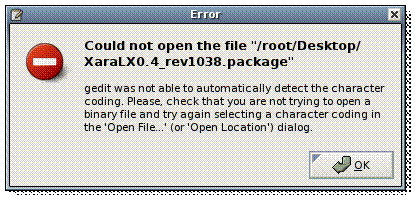 Phil